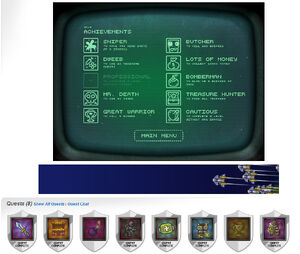 Just like in the first Zombotron game, the second one has a variety of achievements to get. Although there are 10 achievements in Zombotron 2 instead of 12, they vary in difficulty.
List of Achievements
Edit
Sniper: To make two head shots at a stretch
Dweeb: To use 20 medicine chests
Professional: To complete a level without firing
Mr. Death: To die 50 times
Great Warrior: To kill 5 bosses
Butcher: To kill 200 enemies
Lots of Money: To collect 10000 money
Bomberman: To blow up 5 enemies at once
Treasure Hunter: To find all trophies
Cautious: To complete a level without any damage
Ad blocker interference detected!
Wikia is a free-to-use site that makes money from advertising. We have a modified experience for viewers using ad blockers

Wikia is not accessible if you've made further modifications. Remove the custom ad blocker rule(s) and the page will load as expected.